Elmar Abram - Curriculum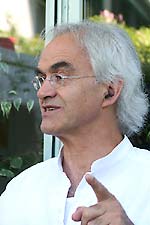 Born in 1946 in Altrei, South Tyrol
Guitar and Flute since the age of 8
Intermediate School in Bolzano; High School in Merano
Simultaneously studies in Musica Sacra at the Bolzano Conservatorium
Piano
Musicians' Syndrome: heavily tensed and severely inflamed muscles
Renunciation of a career in music
Sport College ISEF Degree completed 1971 in Urbino, specialization in Medical Gymnastic.
Engaged for many years as a sport teacher, light-athletic trainer (state high school) and as a music (guitar) teacher (provincial music college Bolzano).
Choirmaster
In the course of years of continuous research into the cause and treatment of Musicians' Syndrome, I encountered Rolfing® Structural Integration, through which my rocky musical road found its happy end.
Master in NLP (Neuro Linguistic Programming)
1987 completion of the training to Certified Rolfer™ at the Rolf Institute in Boulder, Colorado, USA.
Training as Cranio-Sacral Therapist at the Upledger Institute
Rolfing® Structural Integration practice in Bolzano and in Altrei.
Development of the HEFA - Method with the pianist Heinrich Fill for musicians with Musicians' Syndrome.
1992 - 1996 Training in SE (Somatic Experiencing) with Dr. Peter Levine, USA - author of the well known work "Waking the Tiger". Study in the physiological-somatic and psychological effects of shock and trauma and of their treatment.
Certified Advanced Rolfer™ and Rolf Movement™ Practitioner
Further training in Cranio-Sacral Therapy at the Colorado Cranial Institute with Jim Asher
Since January 2000 collaboration with psychoanalysts and medical doctors in a clinic in Verona studying the interrelation between Body and Mind in general, but also in specifically selected psychosomatic disorders.
2004 opening of the centre for further education Masavoi in Altrei together with the Rolfer™ Anna Neil-Raduner - Basel, Switzerland.
Development of MusiReset®; with individual work in Bolzano and Altrei, with small groups and trainings in Masavoi in Altrei.
» INTERVIEW with Elmar Abram